How Celine has helped me...
Or
What I love about Celine...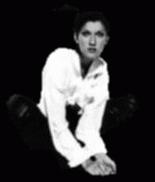 ---
Name:Harmonee S. (Webmaster of this page)
How Celine Dion has helped me:
My dad is very, very sick. In January of 1999 he almost died... My father was in ICU for over 24 hours, my family and I had to wait in the waiting room except for the 20 minutes every once in a while we could see him. The whole time I sat in the waiting room with my family I listened to Celine... as i saw everyone crying hoping he would make it, praying he wasn't in too much pain, and thinking of what is going to happen if he did die. I listened to Celine singing and I thought about the words in the music and how she made it even tho her & her family didn't always have everything. I knew that no matter what happened everything would be okay and Celine's songs made me think of how all I could do was be tehre for my dad & tell him I loved him. I don't have many friends in real life, but Celine's music and my friend Pam were there when I needed support.
What I love about Celine Dion:
I love how Celine loves her family so much and would do any thing for them, she seems to have a very caring heart, and shes beautiful.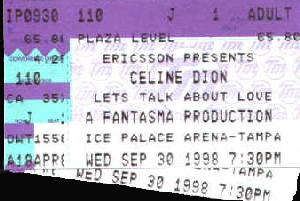 ---
Name:brock65574
How Celine Dion has helped me:
Celine has helped me in so many ways that would take a whole day to list all of the things she has done. Well she has helped me with her music when I'm very lonely and I feel that no one cares about me and that I'm nothing, I listen to her music and I hear that message in her songs and I realize that life can be hard but no matter what happens dont give up. That is the thing that has stuck with me seens the day I first listened to on of her songs. With out her music I think I couldn't have gone through all those hard times and I thank her for that.
What I love about Celine Dion:

---
Name:Melanie
How Celine Dion has helped me:
listening to and loving Celine had made me a better person. She has helped me realize life is worth living if you have a purpose. So, for that I'm thankful.
What I love about Celine Dion:
I love Celine for many reasons. The above answer for one. But her voice is the most powerful, emotional, fascinating instrument I've ever had the pleasure of experiencing. It makes me smile, brings me to tears often, throws chills up and down my spine...I love it! She doesn't even have to be singing for that to happen either...it's just simply Celine. She's the best!
---
Name:Meg
How Celine Dion has helped me:
I'd probably be dead if it weren't for Celine. It's like her mom said, when she speaks or sings, she demands attention, and she has this quality in her voice that makes you feel so much better. My life is totally messed up, so when things go really bad, and I get all suicidal again, I lock my self in my room and turn on Celine. It never fails, I feel better as soon as her first word is uttered.
What I love about Celine Dion:
Well see above! She saved my life. I owe my life to her. I thank her for being who she is. She's sooo amazing. I don't know how else to say it... she's really an angel
---
Name:Megan H.
How Celine Dion has helped me:
She taught me about love
What I love about Celine Dion:
her raw emotion

---
Name:Melissa 13 (Albany, NY USA)
How Celine Dion has helped me:
How she has helped me is to show me that nothing is impossible, and to do whatever you like with your life no matter what anyone tells you. My parents don't really take my love for music seriously, but in the future when I am old enough I'm going to try out for something to help boost my career (hopefully!!!). I cannot wait for the day when I meet Celine. I know I'm going to someday. I just have that feeling! I reeeeeeeally hope that my feeling is right!!!
What I love about Celine Dion:
I love Celine sooooooo much. She is such a huge inspiration to me. I would love to be a pop singer some day just like her. She is my absolute favorite singer and celebrity. My dream is to meet her, and to sing with her.

---
Name:L.J. Osman
How Celine Dion has helped me:
Since my parents divorce I never thought that a family could be close, or that love could last forever. Since discovering Celine and her passion, love, and respect for anything she comes into contact with I believe that love can and does last forever. Just listening to her perfect voice and seeing her love for René and her family, I know that love exists in the world.
What I love about Celine Dion:
She's wonderful - the perfect human being - caring, kind, loving, and beautiful beyond description. Her voice fills me with emotion. Whenever I feel angry, depressed, or confused I listen to her to help me relax and restore my faith in humanity - if there's someone as perfect as Celine in the world, we must be doing something right :) "Everywhere I go, all the places that I've been, every smile's a new horizon, on a land I've never seen, there are people round the world - different faces, different names, but there's one true emotion that reminds us we're the same... Let's talk about love"

---
Name:Rainbowkisses213
How Celine Dion has helped me:
Well I dont know if this will count because I didnt meet her but my hopes rest in her soul. In the past year I lost my grandpa and God~father and my hope went from a ten to a zero. But then I remembered about her niece with cancer and took the song 'fly' and dedicated it to them. Ive always wanted to be a singer like Celine Dion but singing isnt my talent, but she inspires me to continue on my real talent. I am best at writing poems and she inspires me to continue to write. I dont have to be inspired by a poem writer to be inspired in this subject. I know a lot of people want to meet Celine Dion just as badly as I do. And they all probly have a dream of meeting her.. maybe at a special time or something just like me. But I only want for Celine Dion to know how I feel. I mean you and other people probly deserve to meet celine Dion more then I do.
What I love about Celine Dion:
Celine Dion is so wonderful!

---
Name: Jacob
How Celine Dion has helped me: Celine has done an amazing thing for me. I started listening to Celine when I was about 10 and love her music and soul to this day, I am now 17. When I was 16 I became very depressed and suicidal. I didn't like who I was or where I was going in life, but Celine always seems to be right by my side. Say in her songs and words believe in yourself go for your dreams and nothing is impossible so I did I never gave up on my dreams and now I have meet Celine, and am completing my six track album and one day I know that I will be singing a duet with Celine Dion if it takes me my whole life.

---
This Spot is waiting for you!
Name:
How Celine Dion has helped me:
What I love about Celine Dion:

---
Back
snooze@tampabay.rr.com