A Short Bio: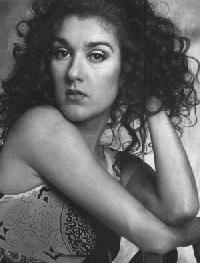 Céline is the youngest of 14 children. When she was growing up her family owned a piano-bar (Le vieux Baril). Céline's first performance was on top of a table on August 18th 1973, at the age of five. She sang a Ginette Reno song.
At the age of 12, her mother wrote a song for her, Ce n'etait qu'un rêve (It was only a dream) which was sent off to René Angèlil, a well known Montreal based manager. He requested a live performance from Céline Dion, after which he mortgaged his house in order to pay for the production of her first two albums. Céline recorded her first English language album in 1990 (Unison). The same year she and other associates: René Angèlil, Paul Sara (René's cousin), and Peter and Lawrence Mammas, opened a chain of restaurants, named 'Nickels' after Céline's favourite number (in Canada the 5 cent coin is made of Nickel). Céline designed the employees' uniforms. The restaurants are decorated in 50's and 60's USA dinner style.

Céline's personal high came in 1994, when she announced to the world who the man in her life was on the cover of 'The Colour of My Love':
'René, for so many years I've kept our special dream locked away inside my heart but now it's getting too powerful to keep this inside of me so after all these years, let me "Paint the truth, show how I feel, try to make you completely real" René, you're the colour of my love'

In December 1994, Céline had a fairytale wedding, marrying René Angèlil, who is 26 years older than her.
---
Back
snooze@tampabay.rr.com